Selecting our goal
The goal affects how each day's advice icons will appear on the ovulation calendar. You can choose the desired goal through the "Goal" item on the main menu, or select one on the drop-down list in the main window:


Your goal can be one of the following:


| | |
| --- | --- |
| Goal | Description |
| Avoid pregnancy... | Sets goal "avoid unwanted pregnancy". |
| Conceive (any gender) | Sets goal conceive. |
| Conceive a girl | Sets goal conceive (girl desired). |
| Conceive a boy | Sets goal conceive (boy desired). |
| No advise | Hides advice icons from calendar. |
Once a goal has been set, the calendar will display state for each day.
If the goal you have selected is to get pregnant, the ovulation calendar will also display your future baby's approximate birthday if you get pregnant on the selected date: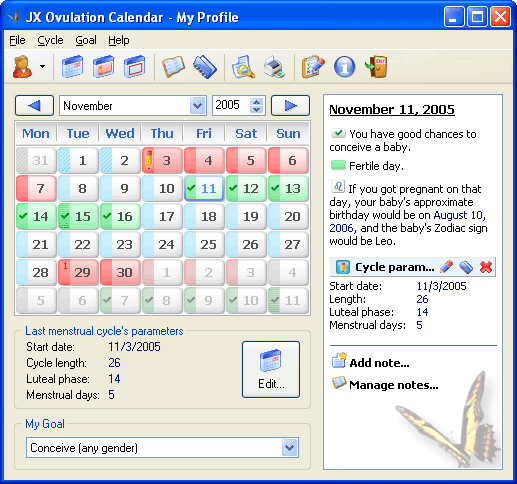 The calculation of the birthday is based on the fact that the pregnancy usually lasts approximately 280 days or 40 weeks beginning on first day of the last menstrual cycle. Along with the birthday, the ovulation calculator will also calculate the baby's Zodiac sign for the selected date.